With the approach of the New Year, we all seem to crave a change....
whether it's a personal makeover, a new resolution,
or a way to make our rooms feel 'not empty' after the crush of Holiday decor & trees are gone.

You'll find inspiration to help here on HOMEWARDfound Decor!
I offer posts with ideas for warming up your home in
winter
,
and for
organizing
your office / craft room with style...
... click on the 'WINTER' tab in my sidebar to find more content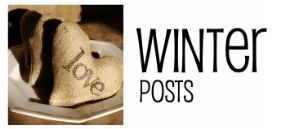 You'll find ideas for every season of the year by clicking on the links in my sidebar.

Thank you for coming by to visit...
and
may this coming year bring you blessings and joy!